The Hollywood Buster
1992 Sorrel Stallion
Return to Previous Page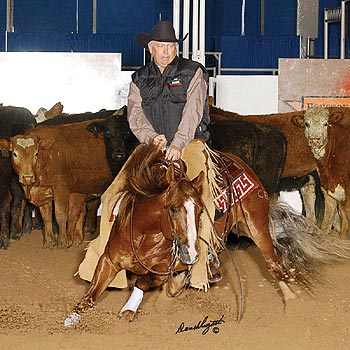 "The Hollywood Buster" is a charismatic stallion with dynamic power. He has a well balanced Quarter Horse conformation. His clean arched neck sets perfectly into well sloped shoulders, excellent withers, a strong back and a full hind quarter. He is highly intelligent, provocative in all endeavors and exceptionally uncanny in his cow sense. In the cutting arena he is fast, low to the ground and absolutely determined with a natural instinct for the sport of cutting. Small in stature but huge in heart, Buster is usually a crowd favorite. His pedigree is a total outcross to all popular cutting bloodlines. Bred by the late Curtis Burlin, Navasota, TX, trained by Roy Carter, ridden in competition by Chubby Turner and Mike Mowery in his mid-career. He was being campaigned for the World Championship but fate knocked on his door. His owner, Curtis Burlin, died suddenly and he was pulled out of competition at a point when he stood in 8th place. Shortly after that, Buster was put up for sale as lot 1 in the first day of the 2003 Western Bloodstock Sales in Fort Worth. We were very fortunate to be able to purchase The Hollywood Buster, and bring him to Montana and the Horse Butte Ranch mares. He is the youngest grandson of Hollywood Gold in existence and carries forward the blood of Hollywood Gold, through Hollywood Return. Click here to view performance record.
Caliente 1
Gold Rush

---

---

Sorrel Mare
Hollywood Gold

---

---

Unknown Sire 1
Triangle Lady 17

---

---

Unknown Mare 1
Hollywood Return

---

---

Ben Hur II
Poker Player

---

---

Miss Oilie
Joanie James

---

---

King O'Neil 2nd (TB)
Kingo'NeilR97mare

---

---

Miss Tommy 97

---
---
Jewel's Leo bars
Colonel Freckles

---

---

Christy Jay
Colonels Leo San

---

---

Cal's Boy San
Miss Cal's Star

---

---

Zeff's Leo Star
Lady Freckle

---

---

Hollywood Gold
Hollywood Wilma

---

---

Miss Badge 105
Holly Yogi

---

---

Colonel Yogi
Yogi Miss

---

---

Lady Nifty X5

---
Performance Record: Earner of over $73,000: NCHA Silver Award; finalist in the 1997 Chisholm Trail 5/6-Year-Old Open, Bluebonnet 5/6-Year-Old Open Stakes, Tejon Ranch Open Classic/Challenge, 2002 NCHA Open Finals and 2001Chevy West Open Championships. 1997 Steamboat Springs NCHA Open Champion; 1999 DRL Ranch Sweetheart Cutting $10,000 Novice Horse Champion; money-earner in the 1996 Augusta 4-Year-Old Open Futurity and Steamboat Springs Open Derby.

By HOLLYWOOD RETURN (1965). AQHA open performance point-earner. Sire of THE HOLLYWOOD BUSTER, BAY BRIM HAT ($6,826: finalist in the HRHA Open Futurity). Sire of the dams of DOUBLE L LENA ($38,623: "The Non-Pro" 4-Year-Old Non-Pro Champion; 7th, Music City 4-Year-Old Open; finalist in the Augusta Open & Non-Pro Futurities), SLYA ($6,879: finalist in the 2003 NCHA Amateur Super Stakes and Amateur Derby), BRIMROCK ($5,578: Rocky Mountain Summer Slide Open Reining Futurity Reserv Champion). Son of HOLLYWOOD GOLD, sire of HOLLYWOOD BILL (3rd, NCHA Open Futurity).

1st Dam

Lady Freckle by Colonels Leo San. Dam of 6 foals of performance age. 3 performers –

THE HOLLYWOOD BUSTER (c. by Hollywood Return)

CB RUF N TUFF PEPPY (g. by Lil Ruff Peppy). $2,334: finalist in the NRHA Limited Open Futurity; 4th, Tradition Limited Open Futurity.

CB Bar Be Doll (f. by Colonels Leo San). AQHA point-earner.

2nd Dam

Holly Yogi, by Hollywood Wilma. Dam of –

YOGI BERT (Bert's Scooter). NCHA Certificate of Ability.

Cowboy commander (Dun Commander). 3 performance points; NCHA money earner.

3rd Dam

Yogi Miss, by colonel Yogi. Dam of –

Gay Yogi (Johnie Gay Bar). Dam of LEMACS GAY BAR ($8,175: 3rd ACHA $5000 Novice Horse World Champoinship; ACHA $25,000 Novice Rider Top Ten); granddam of LEMACS PEPPY ($10,431: Bonanza 4-Year-Old Non_pro finalist), JOHNIEGAY FRECKLES ($2,892: NCHA Certificate of Ability), MISS PEPPY YOGI ($2.906: NCHA Certificate of Ability), Jerimia Cat (AQHA World Amateur Cutting qualifier).

THUNDERS MISS YOGI (Major Thunder). Dam of Friendly Farrah (4.5 AQHA point).

Dennis and Erica Voss
PO Box 297
Two Dot , MT 59085
406-632-4251
406-632-4802
406-632-4281 (fax)